The global consequences of Dubai's debt problems
I posted yesterday a brief statement about the case of Dubai;
DUBAI. The Question is — 'Is it contained?'

Guaranteeing the debt 'on a case by case basis' may help, but it (will) overshadow the so claimed recovery of the US. Sentiment can turn quickly, many real estate properties in the world and in the US (are connected) have to revolve their debt in the coming months ahead. As big and small companies have to.

And with the prospect of a subdued recovery (eventually double-dip), and weak financial markets - containment is again the buzzword #1. Goldman Sachs and others may make money in proprietary business, but banks don't do business with Main Street as they did before.

We all sunk into it because we are connected, we all sink when one loses control. Look out for further potholes, Dubai is one.
Now one day late, The Economist comes with a quiet subtle hint what it means for the world.
Dubai's failure re-awakened a number of dormant fears in investors. Some worried about banks that had lent heavily to the region. Others wondered if Dubai was carrying far more than the $80 billion or so in debt that it has owned up to. The announcement reminded investors that tacit sovereign guarantees may be worthless. Earlier in November, for example, Ukraine's state railway firm, Ukrzaliznytsya, failed to repay part of a syndicated loan, and its energy firm, Naftogaz, restructured its debt.

More fundamentally, Dubai's wobble raised the spectre of a sovereign default. Dubai's government is not technically on the hook for Nakheel's debts. But the government's hesitation in saving its national champions nonetheless demonstrates its fiscal limits.

[…] But many investors in Abu Dhabi bought into the Dubai boom. They will lose money if the bust turns into a protracted slump.
Ice Cold Water.
We are far from recovery. We just jumped ship, the Titanic. The ship is long gone. So many people are now in the ice cold water, freezing to death. Fighting to get onto some buoyant wreckage. And with every hour, more people, um, institutions die in the cold sea. That is how I visualize this.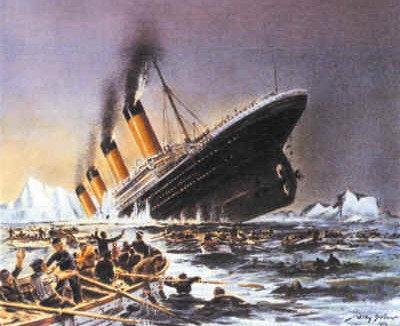 The Double-Dip Is Here (Q1-2010) or even Q4-09/December

Government of Dubai said today that it will not stand behind its wholly-owned subsidiary Dubai World, prompting fears that the company's creditors could lose billions of dollars.

Dubai World's borrowings include a $3.5 billion Islamic bond that was due to be repaid by Nakheel, the property developer behind the Palm Jumeriah islands, in two weeks.

Many creditors had assumed that the structure of Islamic bonds implied there was state backing for this type of financing and Dubai's failure to support the Nakheel debt could have damaging implications for the wider Islamic market.

UK banks are among 70 institutions to have loaned Dubai World money in recent years as the company grew rapidly and bought foreign assets such as the Turnberry golf course in Scotland and P&O ports. Dubai's Department of Finance said creditors will be affected in "the short term" by the Dubai World's restructuring.

It has also emerged today that Nakheel has requested that all three of its sukuks (Islamic bonds) traded on the Dubai stock exchange be suspended. This includes the $4 billion sukuk due to mature on December 14, which triggered the current crisis.

The group's statement said the three sukuks would remain suspended "until it is in a position to fully inform the market". ({c} Source)